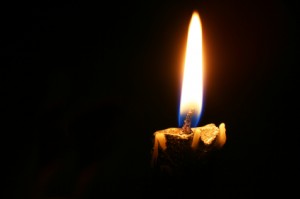 I don't believe in Santa, but I do think it's worthwhile to perform good deeds whenever you can… especially this time of year. And just in case someone is watching to see if I've been bad or good, I try, at the very least, to avoid missteps.
Some missteps can be corrected before it's too late. Like when you choose a pot for making applesauce and after cutting up and tossing in four apples any fool can see that the other 7 apples and 3 pears on the counter will never fit. So you simply dump everything into a larger pot and carry on. Misstep unstepped. That assumes, of course, that a certain someone who already told you the first pot was too small isn't standing right there watching. If he is and you two have been keeping score about such things, then timely self-correction becomes more challenging. But it's still a viable option.
Some missteps, on the other hand, can't be undone. Like making that off-hand comment (just as a joke) when you knew that the subject of the sentence was probably not going to fully appreciate the humor in it. Then you're stuck having to apologize plus deal with your own disappointment in yourself. You're also left wondering why the hell you haven't yet learned that everything that pops into your head a) isn't as funny as you think it is and/or b) isn't worth saying.
T'is the season of spreading light in the darkness… and goodwill. So I light candles and look for opportunities to take steps in the right direction. And I got one this afternoon! As David and I walked to the post office we passed a neighbor standing in front of her house. She was wearing a thin dress, bedroom slippers and an agitated expression. She said something to us, but since the guy across the street was running his leaf blower, I couldn't make out what it was.
Just so you know, this neighbor is… how can I put this… a bit erratic. Over the years we've heard her screaming at passing cars ("SLOW DOWN!!") and at us ("DID YOU SEE THAT? JUST LETS THE DOG RUN AROUND! NO LEASH! NO SENSE!") Because you never know what you'll get from her, I was a little apprehensive. At that moment I could easily have begged off by pantomiming something like: "Sorry, I can't hear you because the leaf blower is too loud. So I'll just shrug and smile and wave and keep on walking by."
But that felt like a misstep. And I knew that the campus rep from Karma College was taking notes… so I crossed the street and went up to her.
LADY: Did you see the mailman up the street? Has he come down the hill yet?
ANNIE: I didn't see him, but we already got our mail.
LADY (frowning): So did I. But I wonder if he's passed by yet.
ANNIE: Yeah. I think he's gone for the day.
She looked upset as she stood there. It was cold and her feet were kinda bluish in those flimsy slippers.
ANNIE: Was there something you wanted to mail? Because we're going to the post office.
Magic words! She lit up and ran into the house. I was just hoping she wouldn't come out lugging a fifty pound box and hand me some stamps.
But no. She emerged a moment later waving a white envelope… Christmas card size.
LADY: It's for a man in a nursing home. You'll take it to the post office for me?
Sure thing.
Misstep unstepped. Right foot forward.