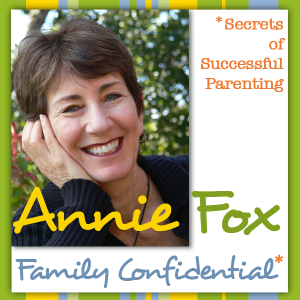 I'm very excited to announce the launch of Family Confidential: Secrets of Successful Parenting, my new regular podcast series. Hosted by me and produced by Electric Eggplant, Family Confidential brings you practical parenting advice through recorded in-depth conversations with authors, educators and therapists. If you're a parent of a tween or teen, this series is for you. It's also for you if you work with middle or high school students. In fact, you can become a part of the series by sending in your parenting questions. I'll address them on the show. These dynamic and personal discussions help strengthen family connections by providing tips, insights and practical tools for guiding your kids through middle school and beyond. FamilyConfidential.com
This week's show, "The Gift of Confidence." As parents, we all want our kids to succeed, and we want them to grow up up to be self-confident. But sometimes what we say we want is at odds with some of our parenting choices. Especially when it comes to doing what's really necessary to help our children grow toward independence and self-reliance. In this podcast I talk with Joe Bruzzese M.A., author of "A Parents' Guide to the Middle School Years." Joe's book and his ongoing work as a parent coach offer practical advice for building confidence in your child.
Listen here (QuickTime required):
If you have iTunes, you can subscribe to this podcast in the iTunes Store.
Or, you can download an MP3 version here.
Upcoming guest authors include:
Subscribe to Family Confidential and tune in each time!
*What's a podcast? "A podcast is a series of digital media files, usually either digital audio or video, that is made available for download via web syndication." — Wikipedia… So, in this case, there's an audio file for you to listen to (in addition to reading the above).