I've always been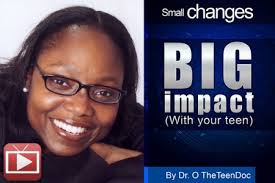 drawn to people who help people… especially if those they help are kids. Dr. O (aka @TheTeenDoc) is the medical doctor at the head of Teen Clinic in South San Francisco. For that alone she has my deep admiration and respect. In addition to prescribing treatment for the body she also administers to the heart and soul of her young patients. For this she has won a place in my heart's Heroes Gallery.
I connected with Dr. O on Twitter. Two minutes into our conversation I knew  I wanted her as a guest on my Family Confidential podcast.
Two weeks ago we talked for 20 minutes about her work. We shared personal experiences and insights about kids and mentors. We also laughed a lot. I'm grateful to have recorded this conversation and proud to share it here. Listen to Dr. O talk about how she  uses empathy to connect with the kids in her clinic. You'll be glad you did because her words and ways will inspire to do the same with the kids in your life.