By Gema Mora
Gema is a 19 year old college freshman. An intern for both RadicalParenting.com and the National Campaign to Prevent Teen and Unplanned Pregnancy, Gema is studying to be a genetic engineer. She also hopes to have a writing career.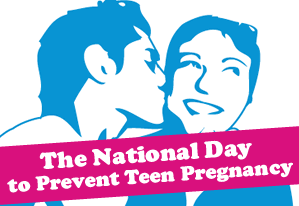 The National Day to Prevent Teen Pregnancy is an annual battle for a war that we cannot allow to be forgotten. May 5th is this year's National Day. Teens across the nation will visit StayTeen.org for online activities that will stress teen pregnancy prevention messages. Although the day is meant to prevent teen pregnancy, the activities will also inform teens about other
consequences of sex.
The National Day to Prevent Teen Pregnancy will challenge teens to
think outside the box and consider how their lives would
be affected by sex and the benefits of contraception. The possibility of pregnancy and the hair-pulling, life changing challenges that come with being a parent will also be faced.
Forget sexy love scenes in Friday night's date movie. Teens need to learn about the realities of being sexually active. Not a moment too soon. Guttmacher Institute's data says that teen pregnancy is up by 3% since 2006. That is the first rise in teen pregnancy since 1990. The National Day to Prevent Teen Pregnancy will be a mass effort to lower that percentage. About 74% teens said that The National Day quiz made them think about what they would do in different situations. That means that the information sunk into 74% of teens and made a difference. These activities work!
Sexual education can never be over. The teens from the year 2000 are not the same ones from 2010. Today's teens need current information. This means being educated on things like: knowing when it's the right time, how to have open communications with partners, : how to be safe, and how to prevent teen pregnancy.
It is in our power to save at least one teen from teen pregnancy. The only thing that should be in bloom is spring are flowers, not teens. The National Day to Prevent Teen Pregnancy is on May 5, 2010. Spread the word!