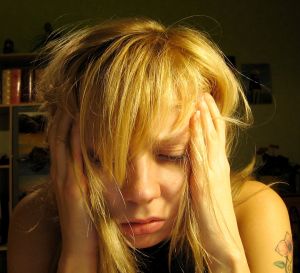 Love can make you crazy and blind. It can (temporarily) mess with your IQ and confuse you into thinking that something destined to make things worse is going to help a romance. When it comes to Bf/Gf situations, I define "worse" as: more stressful, more hurtful, more confusing, more frustrating, and in all ways less awesome.
When you're so "in love" you can't think straight, don't try. Instead STOP, get your hands off the cell phone (or anything else that'll connect you to social media) and take a whole bunch of slow deep breaths. Then, after you've calmed down and cleared your head a bit, if you're still very confused about your next best move, then reach out to someone you trust and talk things over with them.
That's exactly what this girl did when she emailed me about getting dumped by her boyfriend.
Hey Terra,

I have a boyfriend who just broke up with me. I really love him and want him back, but he told me that he don't want me. Please Terra I'm begging! I really want him and me to work out. I don't want to lose him. I want him back. HELP!!!

Confused Angel

_________________
Dear Confused Angel,

You say "I don't want to lose him." Fair enough, but sweetheart, he's already gone. The guy makes his own choices. Same as you. Speaking of choices, why would you choose to be with a guy who doesn't want you? That makes no sense. You know what happens when girls are desperate to "get him back"? They often end up doing stupid things they're not ready for and/or really don't want to do,  just to keep the guy around. (You know what I'm talking about.) And then, after the girl does the stuff she's not proud of, you know what happens next? The guy dumps her a second time because while he might have enjoyed the sex, he wasn't into the relationship. Which is what he said the first time he dumped her!

Look, Angel, I understand how much it can hurt when the person you love doesn't feel the same way about you. I've been there. More than once. But you can't force someone to love you. That isn't how it works.

You are a beautiful, radiant, powerful, young woman and you deserve to be with someone who wants you as much as you want him. If your ex bf doesn't love you and doesn't want to be with you then he is NOT the right guy for you!

I hope this helps straighten out your head a bit.

In friendship,
Terra

P.S. Don't call or text him.